ARTWORKS
MOTIVATION
18 February – 18 March 2015
Commune.1 presents 'In the end, we are all to blame', new paintings by Elize Vossgatter in a collaborative dynamic with Rudi le Hane and Berlin-based performance artist Hilla Steinert.
Following an ongoing interrogation of the notions of the self and its relation to body politics, Vossgatter turns to examine different instances of collectives, groups, gatherings or crowds, through the metaphors of the stage and the staged. These include theatre performances, family snap-shots, school ceremonial photographs and other kinds of gatherings, sourced from social media and from the artists' personal archive. Where previously exhibited work considered the individuals' unnatural relationship to the natural environment due to the superficial accumulations of persona, there is now a consideration of the psychology of the collective and of the pressures it places on the idea of individuality or selfhood.
It is via the handling of the medium and its formalities that Vossgatter speaks powerfully to the crises of coping with day-to-day living. The tension lies between wanting to find clear markers that ensure our individuality but also to find the markers that identify us with the group. The things that were once assumed have recently being challenged to the point that there is no longer a sense of a centre that holds. This openness and fluidity is both exhilarating and daunting and these works reflect those very conditions.
Vossgatter's restless and demanding relationship to her medium, that irreverently uses any fluid material to hand in combination with traditional oil paints, renders surfaces that thin or congeal, glitter and then become unexpectedly and disturbingly dull in a hidden rhythmic code that is at once seductive and repellant. Together with the formal play between the surface, pattern, depth and representation, Vossgatter confronts the complex relationship between the individual and the collective, the self and the other, the viewer and the viewed. At times figures are on the verge of becoming identities in themselves, but suddenly wither or float away. Spaces that are meant to contain groups cohesively are undermined by a flurry of pure painterly marks that corrode depth. As we meet the gaze of anonymous figures, looking out from obliterated surroundings, we are reminded of an inner conflict between our own voice and the voice of others.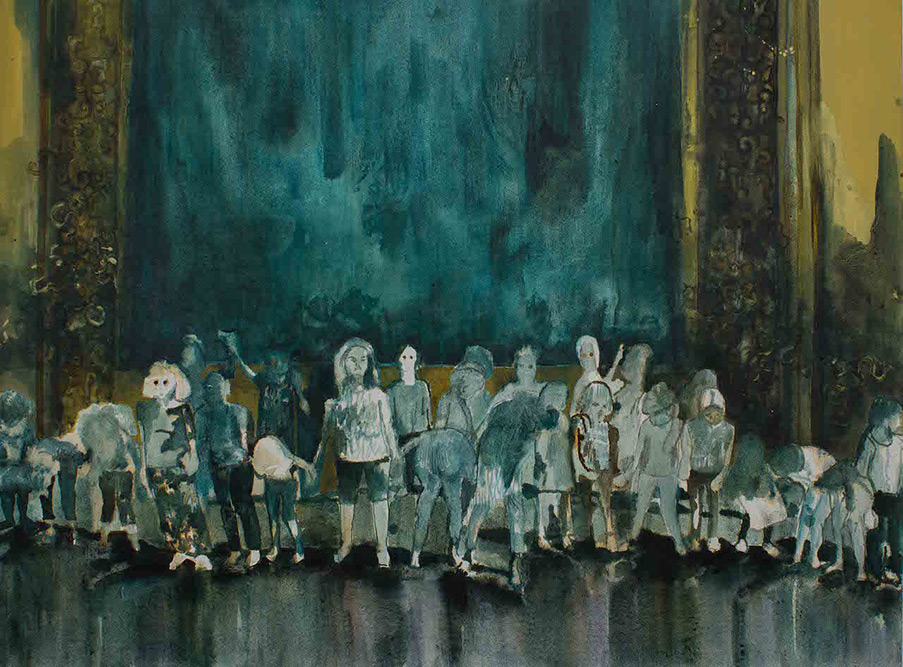 The Creators, 2014
1150mm x 1550mm
Oil paint, charcoal, shellac, gold dust on canvas
The Drifters I, 2014
1370mm x 952mm
Oil paint, gold dust on canvas
The Drifters II, 2014
1350mm x 870mm
Oil paint, gold dust, shellac on Belgian linen
The Drifters III, 2014
995mm x 640mm
Oil paint, gold dust on Belgian linen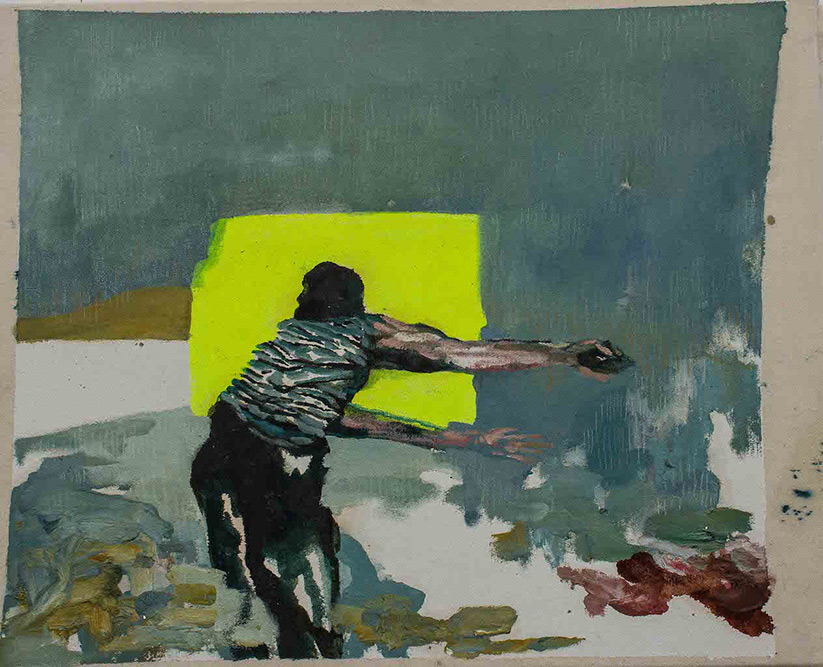 No man's land, 2014
530mm x 430mm
Oil paint, neon, pencil crayon on canvas
Adaptation, 2014
1200mm x 900mm
Oil paint, neon on canvas
Bewildered Beast, 2014
1050mm x 795mm
Oil paint, charcoal, gold dust, neon on canvas
In the end we're all to blame, 2014
1150mm x 1150mm
Oil paint, neon, post-its, glitter on canvas
The One's with the golden gaze, 2014
1150mm x 1150mm
Oil paint, gold dust on canvas
Companies' garden, 2015
1150mm x 980mm
Oil paint, neon on canvas
Phantasmagorium, 2014
1150mm x 1550mm
Oil paint, neon on canvas
No one is watching you, 2014
2000mm x 1200mm
Oil paint, neon, gold dust on canvas
Red Tape, 2015
1550mm x 1150mm
Oil paint, neon on canvas